Herd Sires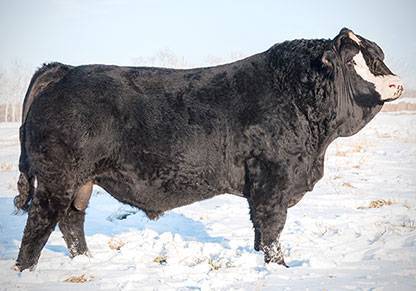 AJB Blue Checkerplate 17A
Semen Inquires Welcomed
Co-Owned with Malchuk Farms, Dallas Malchuk

Tested
: Homozygous polled


Tattoo
: AJB 17A
BW:
98 lbs
WW:
880 lbs
Actual Weight March 11th, 2015: 2090 lbs.
Scrotal Circumference: 42cm
BD:
12 February 2013
Reg. Num:
785851
LAZY S BLACK 29N
R PLUS BLACKEDGE
SUN STAR MISS DRIVE
LFE BS LEWIS 322U
LFE BOMBSHELL 508N
LFE BS MS ARNOLD 135S
LFE MISS ARNOLD 90P
AJB BLUE CHECKERPLATE 17A
GW MR. MATERNAL 057D
SAC MR MT 73G
SPC MISS TAILER 47C
BLCC MISS 196R
ER AMERICANA 537B
TNT MISS WHOOPIE D92
HH HAPPY VELVET P091E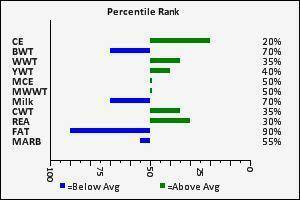 Blue is my boy!! He has 3 generations of chrome in his pedigree, beginning with his grandmother
TNT Whoopi D92
.  His dam, BLCC 196R, know around here as "Sassy", is a SAC Mr MT daughter that is just as powerful as Whoopi was. I have kept every daughter out of Sassy and they are all stellar females.  The rarity of SAC Mr. MT  make this pedigree a little more unique; the impressive volume and performance of the cow family really compliments the calving ease and muscling type of the Stubby line.  Blue's first calf crop have all been born unassisted and are very vigourous at birth.  His calves are growing well and about 75% have the money stripe.  100% of his calves are thick and meaty, which is awesome, and most have his beautiful luxe hair coat.  Watch for Blue progeny pictures to come soon!!
AJB Stingray 63Y
WHEATLAND BULL 131L
WHEATLAND BULL 680S
WHEATLAND LADY 351N
WHEATLAND BULL 995W
TNT TOP GUN R244
WHEATLAND LADY 742 T
WHEATLAND LADY 902J
AJB STINGRAY 63Y
TNT STING M377
BLCC MR BLACK STING 155S
BLCC MISS BLACK PEARL 1P
AJB SPECKLED PEARL 63W
LAZY S BLACK 823P
AJB LADY RED 294T
AJB REALITY STAR 23P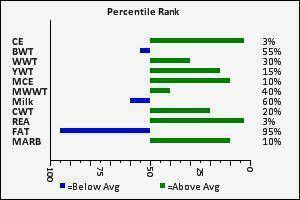 StingRay is now known as TugBoat. I sold him to Big Sky Simmentals in the spring of 2014 for them to use on heifers, and I can't wait to see his mass and dimension combined with the power of Big Sky's leading Fleckvieh genetics. Watch for their sale progeny this fall!
His huge gut and massive rib shape are one of the reasons why I love using him, but it goes without saying his females are exceptional. Ultra feminine and udders worthy of the show ring with their small, well-balanced teats and great suspension.
His Grandmother, AJB 294T is a foundation female and his mother is an exceptional female that has just entered the embryo transplant program. What makes this cow family so strong is their tremendously impeccable udders.
Breed-Leading calving ease combined with great performance and his strong maternal background make Tugboat an easy pull from the semen tank. I calved 2 daughters of his this year, but have a handful more coming up this fall.
AJB TrafficKing 2B
"Kingsly"
Semen Inquires Welcomed
Co-Owned with Walter and Diana Brydon, Birtle MB.

Tested:
Heterozygous polled


Tattoo
: AJB 2B
BW:
87 lbs
WW:
890 lbs , November 1, 2014
YW:
1350 lbs. March 11th, 2015
BD:
8 January 2014
Reg. Num:
1127248
SHS ENTICER P1B
HARVIE JDF WALLBANGER111X
JDF PEPSI 61U
ERIXON DEALER 63Z
CNS DREAM ON L186
ERIXON LADY 35T
TSC GLITTER
AJB TRAFFIC KING 2B
DAY RED PEPPER DOC 984R
KWA RED ROCK 5T
KWA MS ROCK 7P
AJB CHOCOLATE FACE 4Z
KIMLAKE INSPIRATION 90T
AJB LADY INSPIRED 368X
AJB MISS 124R 36T
Kingsly's maternal pedigree is three generations of deep dark red color, wooly hair, and unmatched depth of rib. Off a first calf heifer, his mother worked her butt off on her first year (as you can see by her fall picture). The trait I most envied of Dealer is his depth of rib and loose-hided style; and as you can see from Kingsly photo, it is a trait he transmits successfully. Dealer calves were all born unassisted at AJB with lots of vigour and style, and they are all extremely quiet and well-mannered. Great hair and super sound-made, this bull offers the maternal strength and dominant depth of rib to really add some guts to a program.

We collected semen off of him and sold the walking rights to Walter and Diana Brydon of Birtle, MB to use in their commercial Simmental/Angus cowherd.